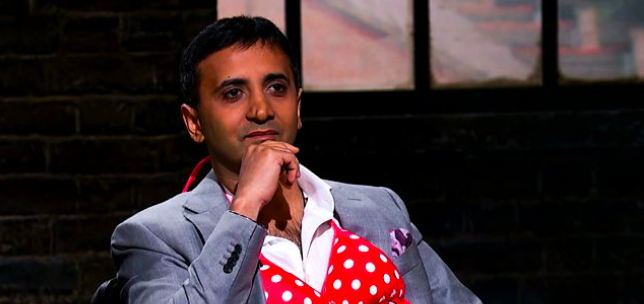 Yep. We got Zip. Zilch, Nada.
Are we happy? Are we sad? Are we disappointed? Do we want throw something? What does this mean for Halto?
Well, now we get to tell you all our juicy little secrets, so get comfy!
You saw our genuinely terrified faces as we entered the Den and came face to face with five fearsome Dragons. You saw our crafted puppet show (and song) and heard our pitch. At the point of writing this we don't actually know what the final edit will be, and given we were in the Den for 40 minutes, there will be loads that wasn't shown.
Did they show the round of applause after the puppets stopped singing? Did they show Peter Jones telling Lerryn to stop talking? Did they show Touker patronisingly asking how we were able to afford shoes and make up, only to be shot down by Jenny, suggesting that food may have been more of a priority?
One thing is for sure, you now know we didn't get investment, despite our best efforts. And you know what? It's OK. Like, really, really OK.
Before we applied for the show, we had to think very carefully about what we wanted from this. After all, although risky, this could be the opportunity of a lifetime. However, being realistic, the chances of getting investment were slim! At the time of filming the show, we hadn't been trading a year, and we would have been a huge punt for any investor. We have one product; a small turnover and we were going in hoping they would see the future potential rather than past sales (not something they are known for). We did have a national retailer on board and 5* testimonials from customers, who know how effective the product is, but being kicked out of the Den empty-handed was still the biggest possibility.
Also, the actual idea of investment scared the living crap out of us, and was such a far-reaching possibility, that we resolved to deal with it as and when it came up. We knew which Dragon/s we would have liked and had done our sums, but getting investment would have been the cherry on top, not the cake itself; and it certainly wasn't make-or-break. The exposure was.
Still, if we didn't want to be ripped apart on national TV, we had to be strategic.
We went into the Den with three main aims;
Do whatever we can to spread the word about Halto on primetime TV.
Be the role models that we (and our kids) can be proud of.
Don't f**k it up
We decided we had to do something visually memorable and in our own style. Of the hundreds of entrepreneurs who applied for the show, only a handful would get one of the coveted 10-minute slots, with a few others having to settle for a couple of minutes under the banner of 'side-show', or not even get aired at all. We needed to pull out all the stops. In the immortal words of Martine McCutcheon, this is our moment!
Enter the puppets, lovingly supplied by the CBeebies puppet-master (we were total rockstars for this alone in our childrens' eyes). Mind you, as two well-endowed, nude puppets arrived via Royal Mail in a see-through plastic crate, the postman was a little flustered and couldn't look us in the eye!
We worked so hard to learn everything. The preparation was intense – sword fighting with cocktail sticks whilst running through the pitch, distracting each other in any ways we could whilst detailing the long list of figures we had to learn… not to mention writing, recording and choreographing a song, and going through the due diligence process (all in secret!).
The puppets were a calculated risk on the day – either it would be an awesome stunt or career suicide. But we nailed it. Even with the extreme pressure, we didn't falter on the 'dance' moves and got a round of applause from the dragons. So far, so good.
We also wanted to demonstrate the problem using our fake weighted bikinis and were hoping that Peter Jones would wear them to see the problem for himself. Peter Jones in a bikini would have been publicity gold! But alas, no. He refused point blank and wasn't exactly a 'good sport' about it. Luckily Tej stepped up and experienced the halter ache first hand, which was great entertainment all round.
So, did we get what we wanted?
Well, our first objective was to spread the word, and we only went and secured one of the coveted 10-minute slots on prime time TV, with around two million viewers. Boom! Right at this moment, more people know about Halto (the only halterneck strap cushion in the UK) than ever before. This is dream publicity for any new brand, and is a huge win for us!
Secondly, every single Dragon said how much they liked us as businesswomen. Jenny even said we were 'A credit to female entrepreneurship', which meant so much to us both. As two mums developing the product around our children and juggling 'life', we have always suffered with imposter syndrome; that we don't really deserve the label 'entrepreneurs'. But here we were with five of the most respected (and scary) business minds in the UK telling us how they would love to work with us.
One of our main driving forces behind Halto has been to do good. We want to be role models for other women wanting to start their own businesses. We want to help women feel amazing about their bodies and achievements in life. And we want to be able to look our children in the eyes when they are grown up and tell them that they should pursue their dreams, no matter how scary the dragons they may have to slay along the way.
The fact that Halto was seen as too risky an investment at this point was totally expected, and we can make peace with that. After all, while the Dragons are looking for an investment to make them (more) millions, we are looking for a business we love and that we can make a difference to women. What they deem as un-investable is still a perfectly wonderful business for two mums from Cornwall. That's cool.
And did we f**k it up? No! We left the den with our heads held high. We were determined that we wouldn't falter and would be as prepared as it was possible to be. We got our pitch word perfect, there wasn't one figure we didn't know and we were able to answer every question confidently. That is something to be proud of. We held our own in the most high-pressured situation imaginable, in front of two million people, and now they all know who we are and what we do. We feel pretty damn good about that!