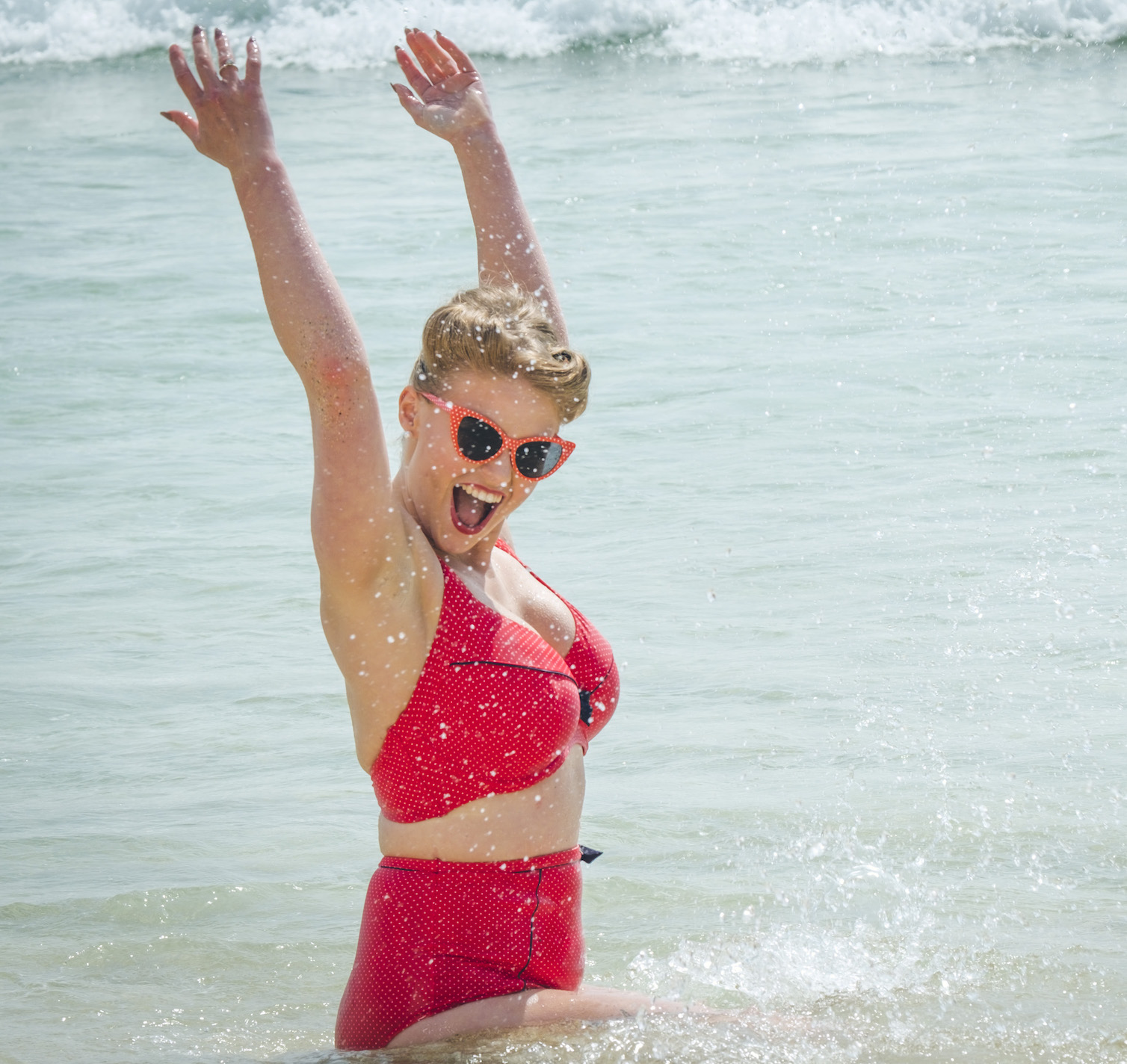 When we had the idea for Halto, I was out shopping for bikinis for a holiday and was exasperated at the ones on offer. It was my honeymoon so I wanted some nice swimwear, but everything I liked was halter neck. In fact, most were halter neck, full stop. And I couldn't stand the thought of the pain a halter neck would bring me – that nagging neck pain, the pinching and eventual bruising…two weeks of that was something I couldn't handle. Lucy was with me and was encouraging my purchases as all good sisters should, and when I mentioned the halter ache, she immediately said 'Yes, me too!'. I think it was the first time I'd ever realised that other people suffer with the same discomfort as I do. The rest is history of course, but the really great bit about this story is that I bought my bikinis, and LOVED them once I had my prototype Halto on. I loved wearing them on the beach, swimming and under pretty dresses in the evening. For the first time in my adult life, I felt like I didn't have to compromise on style in order for it to be comfortable. I wasn't the only one there with epic tan lines over my shoulders, I was able to wear strappy dresses, cross back dresses and halter necks in the evening. I no longer look at summer dresses and think 'if only'. For us, cultivating this feeling has become as big a part of Halto as manufacturing the product.
I've always had boob issues. When I was a pre-teen I was teased incessantly about being flat chested (the perils of having an older sister!) and then overnight I got D cup boobs. I remember a boy in the playground sniggering and saying that him and his mates thought I had big boobs, and so it began… Alongside this was the horrific underwear I had to wear. Now there are amazing designs available for bigger chested girls, but in the 90's? Not so much. My first bra was white, cross your heart style, thick straps and was huge. Getting changed for PE was not something I relished while most of my peers were wearing pretty crop tops. In the summer, friends and I would head to the beach. While they had super fashionable bikinis, I struggled to find any that would fit, let alone that were comfortable. The best I could hope for was a plain black over the shoulder bikini, which was passable, but hardly inspiring. And as a fashion conscious teen, I hated not being able to wear the same as my friends. My prom dress had an elasticated top. Wearing normal strappy tops has always got me comments about exposing too much – a problem women without excess boobage are lucky enough to not get: Nothing like repeatedly being told you're looking a 'bit slutty' at 17. My reason for this oversharing is that at the age of 30, finally feeling like I could wear what everyone else was wearing was a revelation. I cannot over stress it enough, it was liberating. And these are my issues – women everywhere have their own personal body image problems and it can be a heavy emotional weight to bear, especially when wearing swimwear, which tends to leave us feeling exposed and vulnerable. But we want every woman to have the sense of liberation that I experienced, that of wearing something you love and feeling amazing in it. Whether its the bikini you saw Jessica Alba photographed in, or one you love the cut or colour of. Whatever your reasons for loving it, every woman deserves to strut her stuff on the beach or at the swimming pool and have that extra confidence that she looks incredible.
I also don't want to understate that when we are wearing swimwear, we are meant to be having fun. Its for our one holiday a year, or a weekend spent at the beach. It's for days at the swimming pool with the kids, or playing with the paddling pool in the garden. So we want women to have fun. Feeling confident is a part of that, but so is the freedom to move, be active, play cricket with the family on the beach without getting decapitated… If you're lying there with your bikini straps undone to avoid the pain, you will not want to re-tie the straps, feel the pain and go rock pooling with the kids. But isn't that what these fun times are about? And if Halto allows you the comfort to get stuck in without thinking about your bikini straps, I'd say that was a win all round. So being a Halto girl is also about having the ability to embrace life head on and not being held back by anything. Sounds pretty good, eh?
In a world where Ashley Graham is considered Plus Sized and we are bombarded with pictures of Kim Kardashians bottom attached to her impossibly tiny waist, its far too easy for us women to feel that we don't look like we should. I was brought up with magazines actually pointing out womens flaws in the 'Circle of Shame' sections of magazines. So when we slip on our bikinis and walk across the beach, we don't necessarily feel like flaunting it all the time. But we want Halto girls to rock it, whatever their size or shape. For every person like me who has wanted to downsize their boobs, is another who yearns to have a bit more. But every woman is beautiful in her own unique way, and everyone else can see it. I love when people excitedly tell me that they wore their Halto on holiday and how effective it was. I love even more that they are out loud and proud about needing a Halto in the first place. Being a Halto girl for me is being proud of whatever you've got and feeling confident in your own skin. If you're lucky enough to need a Halto, then be proud of that fact: wear what you love and flaunt your assets. Wear those bikinis and feel amazing, because as we all know, confidence is the most beautiful asset a girl can possess.